I have never given a craft room tour of my studio, mostly because I feel like I needed to make it look perfect, but in reality who's crafty space is perfect? So heck with it, let me show ya the real crafty space I work in, mess and all!!
Here is a video tour of my crafty room and a few fun storage ideas!!!
My craft space is a work on progress, here is my desk with a few extra packages stacked on top - fun happy mail from my card swaps!!
On my desk I store a ton of my crafting tools in various containers. My current favorite is a set of tins I decorated. Check out the video.
One my old favorites is a storage container I have had on my desk for the last 2 years that I decorated the outside of a long time ago in one of my first videos. Just look how much it holds!!!
I loved the storage units I have around the room. The big one is my Ikea wall unit. It stores all the drawers, some are built in (the white and black) and some are also removable (the red units).
I have a few extra storage units above and around my computer desk. I have some Deflecto storage containers such as the rotating one. Here it is double stacked from when I first put it together filled with various trims, mesh, burlap and, other fun crafty supplies!
Here is the video on how I put this together!
I have a tilt bin behind my computer monitor that stores some of my extra inks. Here is a video on how I put it together.
I also have a tilt bin unit above my computer desk for a ton of my trims and ribbons. It looked super clean and organized when I first put it in. It is still super functional and completely as organized as it was when I did it over a year ago!
Here is a video on how I organized my ribbons and trims and then also stored them into the tilt bins.
My room is organized for me to find things. Some things are super organized, some are a cluttered mess, but it works for me!! I have a small space to work in (10x10) and one whole wall is a window, which I love for the natural light and I get to look outside and see the world and nature around me. I get to see my kids outside playing, the sunny days, the rain, and even snow on some rare occasions. I love the saying a messy desk means you have a creative mind, well just take a look at my normal desk!
So there is my crafty room, my oasis for my creative mind, my little section of the house for where I create!! Now head on over to see some other amazing crafty spaces and craft rooms!! Angie Holden from
The Country Cottage Chic
is hosting a week long series of various craft rooms and tour and I am on the list for today!! Check out the rest of them by clicking
HERE
or click on the picture below!!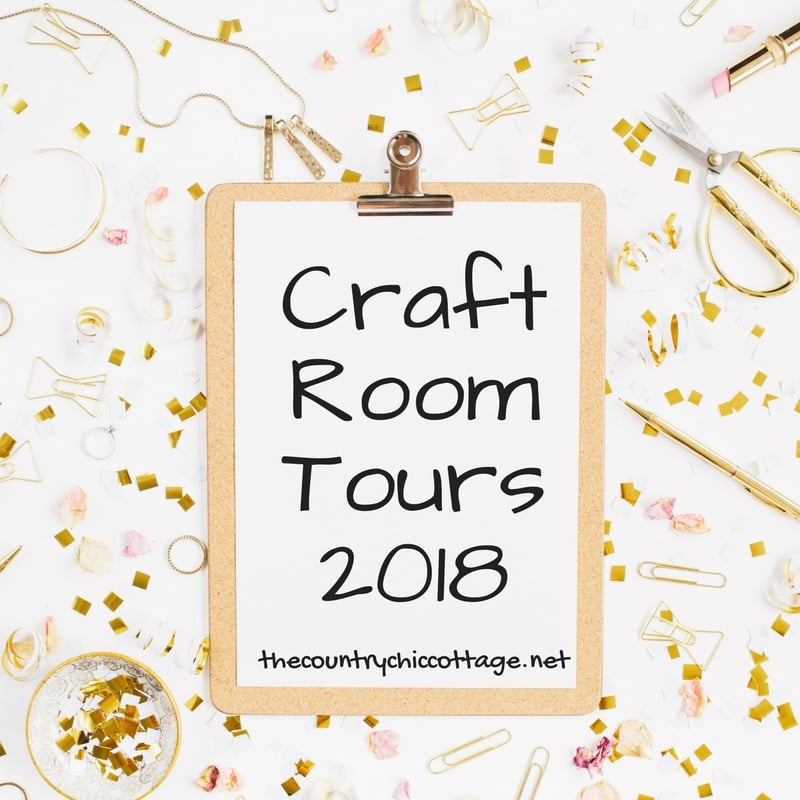 Interested in the supplies I used in this project? Most are listed below and some are affiliate links, which generates a me little commission (at not extra cost to you at all) when you click on the link and make a purchase.
Affiliate and product disclosure can be found here
.

Ikea Single Shelf Door Insert
Shop at:
AZ

Ikea Kallax Wall Storage
Shop at:
AZ

Ikea 2 Drawer Insert
Shop at:
AZ

Ikea Pull Box Insert
Shop at:
AZ

Deflecto Tilt Bins
Shop at:
SB | AZ

Deflecto Caddy
Shop at:
SB | AZ

Deflecto Rotating Organizer
Shop at:
SB | AZ

Deflecto Storage X Cube
Shop at:
SB | AZ

Deflecto Tilt 4 Pack
Shop at:
SB | AZ