Mike got to come back to the states early from being deployed to help train the next unit replacing their unit in Camp Phoenix. The bad part was that he was 3 hours away for over a month, so close yet so far away. During this time I took our youngest child (Catherine) to see him and spend a weekend with him. Catherine has last seen her daddy when she was 2 weeks old, and even though we Skyped and talked on speaker phone so she could hear his voice, she had not seen him in the flesh for 8 months. We were all a bit worried how she was going to react to him, as with every other male that tired to hold her (including grandfathers) she cried. Within minutes of Mike walking through the door he laid on the bed next to her and I got this wonderful picture of the two of them. Neither could stop smiling, it was such a sweet and wonderful moment to watch, father and daughter together at last.
I wanted the flourish to speak for itself, it is just so pretty that all I wanted to do was enhance it with some ink, a few embellishments, and a picture. I had so much to say with this picture that in the end it would have taken up the entire layout to write the story, so instead I wrote nothing and decided to write the story when I posted on-line, sometimes a picture is worth a thousand words.
Memory Maze Chipboard Supplies
12 x 12 flourish corner set 8 sold 3's -

Z0024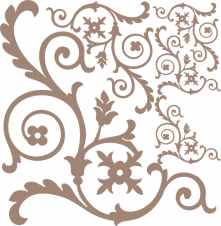 Supplies Used
Cardstock - Kaisercraft
Patterned paper/journal cards - Prima
Buttons, flowers, black bling - Prima
Pink gems - Kaisercraft
Punches - EK and Martha Stewart
Ink - Clearsnap
Butterflies - Petallo
Twine - Other
Chipboard - Memory Maze
Enjoy!!